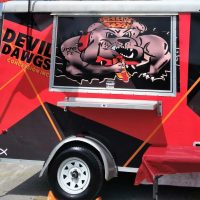 Americas Favorite Fun Food Menu
old favorites may be Something New to Try
Devil Dawgs Promise
We take pride in bringing you only the best ingredients based on what is available. Our customers take home an experience that makes them come back for more! Their raving reviews with flying colors is a testament of our commitment and passion to let our food speak for itself and leave it up to your pallet to sit back and enjoy the ride. If you like to bring this experience to your own event, we are completely self-contained to serve your events with the best in class treats right where you are.
So indulge in our America's favorite fun concession foods inspired by authentic and creative family recipes inspired from Joe's military service and hometown recipes, re-invented with a modern twist.
Call, Text or Email!